Welcome to OCMA Rancho Santa Margarita
Training the Body and Mind
---
Little Lions
Our Little Lions program provides Safe, Fun and Exciting martial arts training. We focus on Respect, Self- Discipline and Hand Eye Coordination for ages 3-6. Your child will have in increased ability to pay attention and follow directions while improving their motor skills.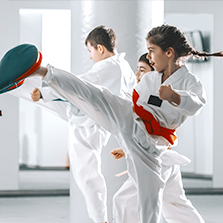 Karate For Kids
The Karate for Kids Program is specialized for kids ages 6-13 to teach them the fundamentals of martial arts while also creating a foundation of positive mental attitude, high goal setting, perseverance and confidence.
OCMA Adults
OCMA Adults focuses on fitness and real life self-defense for all men and women. This program will allow you to stay in shape while also acquiring an applicable skill. Martial arts including Taekwondo & Karate allows you to feel more confident and secure as well as the ability to take care of yourself if the time arises.
Better yet, see us in person!
We love our customers, so feel free to visit.
Visit our Instagram @OCMA.USA
OCMA USA
31431 Santa Margarita Pkwy
,
Rancho Santa Margarita
,
92688
949-858-8325
Hours
Monday - Friday: 2:00pm - 7:00pm
Saturday: 9:00am - 11:30pm
Sunday: Closed